Hi there!

Iuri has been working on more animations this week and he's showing a little bit of the process:
"For this animation I didn't just want to make a generic mount, I wanted to portray the relationship between the two characters, as well as the agility of the main character and kindness of the elk. I started by exploring some poses that would evoke what I wanted to transmit. I analysed videos as well as images.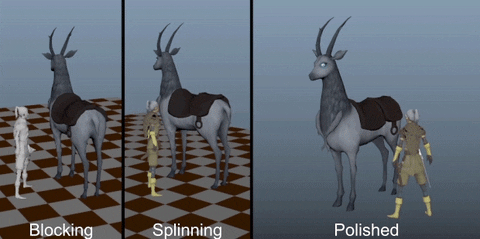 My first approach on this stage is trying to get the poses that describe the movement in place, I check if the silhouette of the pose is working for the camera view as well in other perspectives, the line of action, twinings, balance, etc. On a second approach to blocking I start to work on timing and improve on some poses, I also add breakdowns until I have all the necessary poses. Going on through spline after having to make some iterations to the animation, I work on timings, ins and outs of poses, arcs, exaggeration, movement resistance, which part is leading the action and which parts are following, etc.
Having arrived at the polish phase I improve the arcs, spacing, overlapping, animation curves, pops and other minor adjustments."
In the meantime, Tomé decided to take a break from working on the swamp scene (after weeks of only focusing on that) and started developing new weapons. These will mostly be hidden in chests and are meant to work as rewards for players who carefully explore each location of the game.
At the character art department, Pichel is doing retopology and UVs for the new character we mentioned last time, which will be shown in the next devblog update.